AR Will Change Banking As We Know It
by Perjan Duro, Founder
Augmented Reality was a really hot topic last year and early this year as everyone was talking about it, but it has kinda cooled off lately. You don't really see people talk as much about it on Twitter or Medium. The same can be said about the face filter craze, it has quiet down by a lot, but that doesn't mean that AR is dead.
We too have slightly shifted our focus from AR to Fintech as we have been working with the MoneyCoach team on expanding the app on Android, iOS, iPadOS and lately on Mac via Catalyst. But we haven't forgot about AR, far from it. After the highly successful Baugasm and Particular apps, we have been quietly and slowly working on improving the later one. Soon we will announce Particular's evolution and where do we go with that app. But until that time comes, we might do cool AR things in the Fintech zone with what we have learned working on Particular.
Exciting things like an AR app where you point the camera to a banknote and you get a real-time currency conversion of that banknote in a currency of your choosing which is perfect for when you are travelling the world. Another exciting AR app which will allow you to scan an ATM and display your bank details without the need of you to enter the card/pin into the ATM. Or you can just scan your credit card to see how much you have spent, deadline and the last couple transactions you made using that card. Or a potential AR viewfinder inside MoneyCoach as you can see in the image down below. Let's just say that we have been exploring...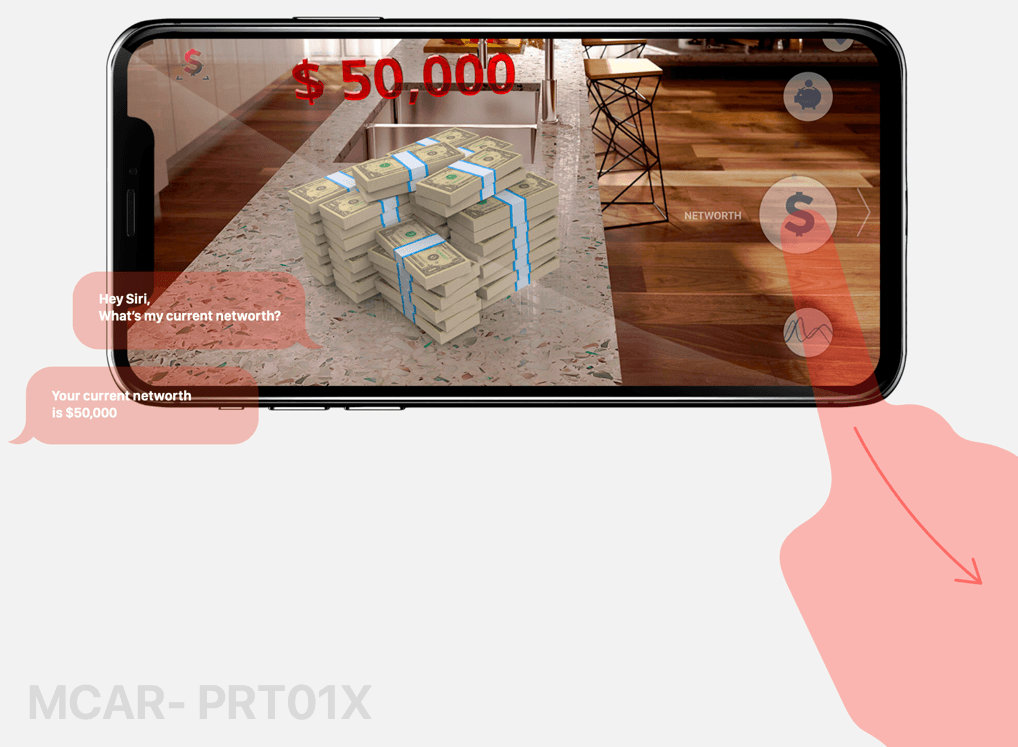 App developers can already do a lot with AR and some of the "cool" banks are already doing interesting things with augmented technology. However as cool as these new interactions and augmented experiences might be, they are not mainstream yet. You don't see the general population use AR to check their bank accounts or convert currencies or anything like that. You will see the occasional person in the streets still going for that high level Pikachu, but that's mostly the extent of AR today.
I've said it before and I will say it again, new technologies die if the big guys don't support them. Stereoscopic 3D died cause no one really cared about it after Avatar. VR was dead on water until Facebook bought Oculus and Sony started to really care about PSVR. Mobile NFC payments were a thing that like 3 people in the world used until Apple made it cool with Apple Pay and the rest followed. The same can be said about AR. It started off great with Apple pushing it really hard, but currently it is in hiatus. Apple has been really quiet about it which might mean that they are getting ready to take the next giant step, Apple AR glasses.
Yes, yes, AR Glasses do exist today, but as it was with NFC, like 3 people are using them. Apple is a master of making something mainstream. They did it with the iPhone, iPad, Apple Pay, AirPods etc. That's what is bound to happen with AR in the next one or two years. Banking will be heavily impacted by this new tech as it will make the customer experience better, easier and more available. We at Imperium Apps will be there, in the frontlines, with exciting AR banking experiences.
Imperium Apps GmbH is featured in the Top Fintech Software Development Companies