How AR Will Change Art Gallery Experiences
by Perjan Duro, Founder
Here in Berlin, there are a lot of art galleries ranging from world-famous places like the Contemporary Fine Arts, Kunst Werke Institute for Contemporary Art and East Side Gallery to lesser-known pop-up ones from local artists.
Visiting a gallery is well, an experience as you get to meet with the artist and see, interact or even touch the art in some cases. But, nowadays, with our busy schedules and other priorities in life, we don't really have time to do anything let alone go and visit art galleries. To not even mention the hassle of getting to the place in the cold harsh weather or even parking.
AR or Augmented Reality can save you all this hassle and bring the gallery to your home. The tech is already here, in your pocket. I am talking about the iPhone of course. With just an app you can transform your room into an art gallery.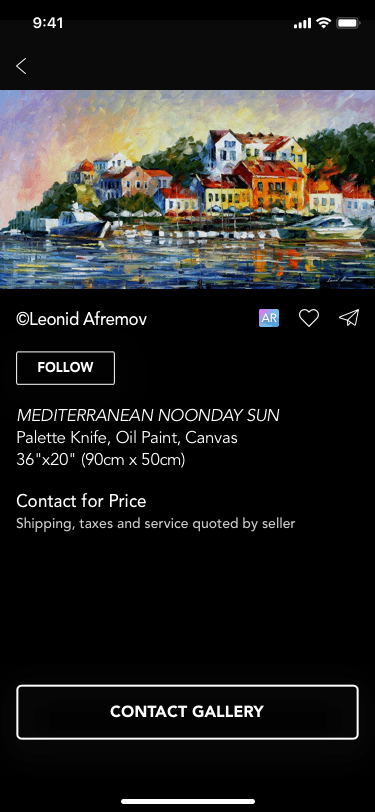 Just take aim and you can immediately hang any gorgeous piece of painting or place any sculpture or art installation, full size, in your home. You can just walk around, get a feel of how the art would look like in your home and, here comes the intriguing part, you can order it directly from the app. Simple, clean and quickly you just experienced an art gallery from the commodity of your own home.
At Imperium Apps, we are working on a similar platform that will allow you to do just that, bring the art gallery experience to you, wherever you are and whenever you want. To take things into the next level, you can also insure the piece of art you just bought with a service like Ergo Art Insurance so you can sleep well at night.
All of this experience, in your hands, brought to you by the incredible power of Augmented Reality. Now just imagine doing everything I mentioned above, not with your mobile device, but with AR Glasses. Completely hands-free, with the art rendered in real-time in your home, while you walk around and Siri tells you all the details you need. How crazy is that? I want that and I believe you too, want that.