MoneyCoach Gets Featured Worldwide
by Perjan Duro, Founder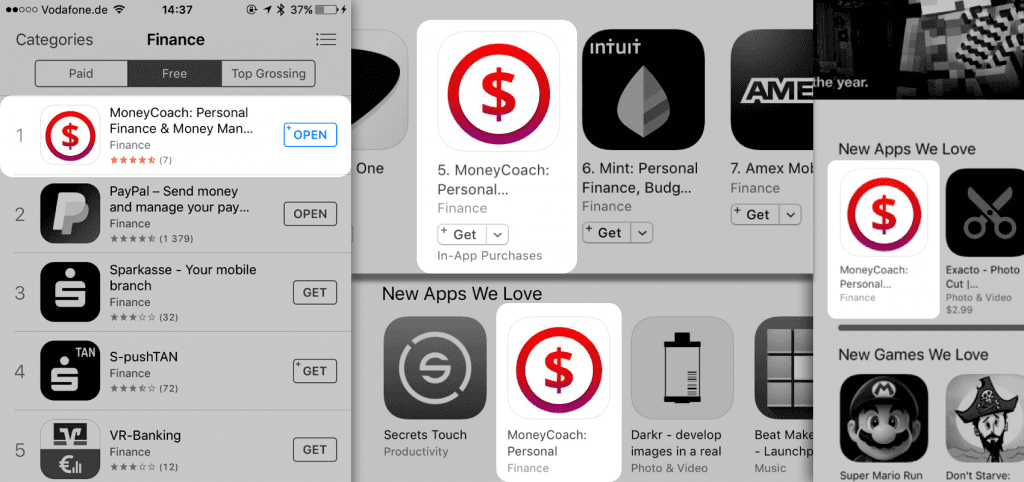 2016 ended with a bang for the Imperium Apps team as MoneyCoach got featured in the US App Store with 12 hours left of 2016. We all know that people during the holidays spend money like crazy, but do they really keep track of everything? That's where MoneyCoach came in. Apart from being one of the best, if not the best, personal finance tracker in the App Store, it teaches people how to spend money and how to save.
So you can only imagine the success and tens of thousands of downloads it got. That's amazing, right? Well, it was, but it meant supporting each and every one of our users. The office was literally on fire at one moment, but we made it through, we finally got some sleep.
However a week later, MoneyCoach gets featured on the Chinese and Asian App Stores under the "New Apps We Love" banner. Daily Active Users skyrocketed once again as did the support tickets. We quickly created a user manual that helped our users understand better MoneyCoach and help them transition from lower tiered finance app to MoneyCoach. We've crafted tools to make the transition easier and smoother for them. Then after a couple of days, things cooled down. DAUs were still high and the users were calmer, it was a smooth sailing.
Bam, this week, we got featured on the German and DACH App Stores and the office is once again on fire. Unlike the other previous cases, this time around, MoneyCoach was top of the charts. It was on the front page of the App Store, it was number one on the Finance chart besting Paypal and the numerous official apps for the premier German banks. It was crazy and still is, as we are still on top.
But as we've said, this is just the beginning. We have a ton of cool new features in the pipeline to make MoneyCoach the premier Personal Finance Management app in the App Store. Stay tuned and thanks for your continuous support.
PS: We just hope we do not get featured again as we would love to sleep more than 3 hours per night 😜