What The New USDZ Format Means For AR
by Perjan Duro, Founder
At the WWDC 2018 Conference, Apple introduced the 'future of AR', a file format called .usdz, which they have been working in collaboration with Pixar Studios for some time now. This comes as a welcome addition for application developers, who now have the ability to package AR experiences and share them with others. If you, like us, have developed an AR product until now, you might know how much of a pain in the ass it is to import and make a 3D object look good in an AR experience.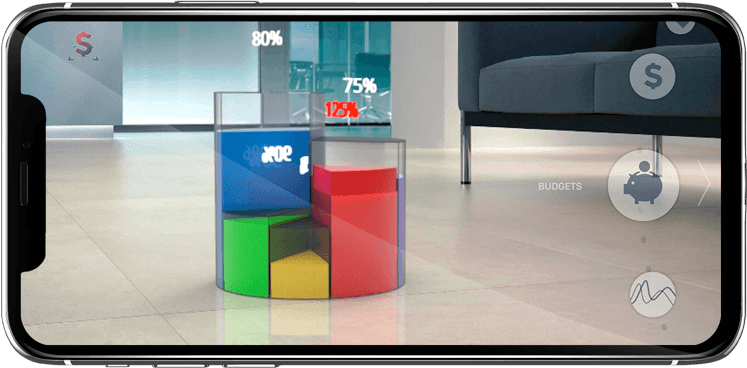 MoneyCoach AR Concept WiP
We think that this is a very big step for AR as it allows us, the developers, to deliver high quality Augmented Reality experiences at a faster pace than before. Here are a few reasons why we feel this is a game changer:
Sharing
Before, you could only snap a picture or better say take a screenshot of the AR object placed IRL and share it with your friends. But that doesn't really do justice to the actual experience of seeing a 3d object in AR from all angles, playing around with the size and alignments. Well, now with this new file format, you can just package this and send it over to a friend, colleague, whatever and they too can join in the experience and see what you see and that is really cool in our opinion.
WYSIWYG
"What you see is what you get", it cannot be easier than this. Before, just to make a 3d object look nice and actually import successfully in XCode required a lot of work mainly because a texture would not load or a material would be broken or a camera wouldn't work. Now with this new format, everything is unified and it will be a lot easier for both big and small developers to craft amazing and groundbreaking AR experiences.
To Infinity And Beyond
Up until now, AR experiences have been simple ones like, place a furniture object IRL and see how it looks in your living room and kitchen or you could place the Falcon Heavy rockets in a park and awe at the actual magnificent size of it. Or make some text just float around for reasons. Now Apple is supercharging the capabilities of what the iPhone and iPad can do. You can have collaborative experiences, with multiple people in AR, you can play multiplayer games in AR, you can craft amazing new learning experiences for children and adults alike. The possibilities are well, endless.
We are really excited about the premise of this new file format and we cannot wait to get around to play with it. We are currently developing many AR experiences for some really interesting clients and we cannot wait for you guys to check them out. If you need an AR experience for your business, we are here to help!